Volunteers helping with the restoration of Avenue Park, North Stoneham, have stepped back hundreds of years in time. Working alongside professional archaeologist Christopher Currie, they have revealed the footprint of a pair of lodge houses marking the entrance to a once magnificent country estate. And further excavations have unearthed a drive once plied by horse-drawn carriages, forming part of 'Capability' Brown's original design for the park.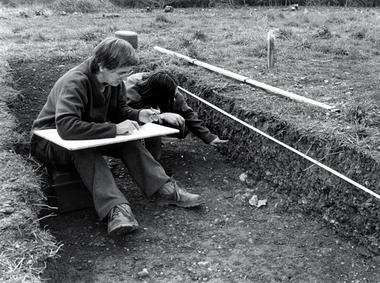 The North Stoneham Estate, just outside Eastleigh, Hampshire, originally extended to more than 400 acres, and was the country seat of the Fleming family. Although the old mansion has long since been demolished, much of the parkland survives and is now the focus for a major restoration project, being led by Eastleigh Borough Council. The parkland itself dates to 1599, but was remodelled in the eighteenth century by Lancelot 'Capability' Brown, famous for his pioneering work at many of England's finest stately homes. With few records of the parkland remaining - none of Brown's original plans survive - archaeology is being used as a valuable tool, guiding the restoration process and bringing to life the rich history of the site.
James Watson of Eastleigh Borough Council's Itchen Hamble Countryside Project said, 'Recent archaeological excavations have confirmed that the Winchester Lodge must have been an imposing building, befitting of the entrance to a fine country estate. In fact, there were two lodge houses, one each side of the drive, separated by a huge pair of iron gates and substantial brick pillars. These octagonal buildings were faced in a high quality brick, adding to the illusion of grandeur'.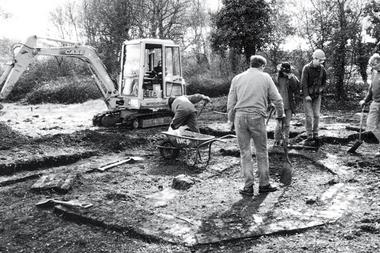 However, the buildings would have provided only basic accommodation by modern standards, with each lodge measuring barely ten feet across, and living and sleeping quarters provided in separate buildings.
Restoration of Avenue Park is being taken forward by Eastleigh Borough Council, working in close partnership with Hampshire County Council, private landowners and volunteers. The landscape will be restored close to 'Capability' Brown's original vision, providing a valuable resource for all local people to enjoy.